Javier Blanco
Barcelona, 1968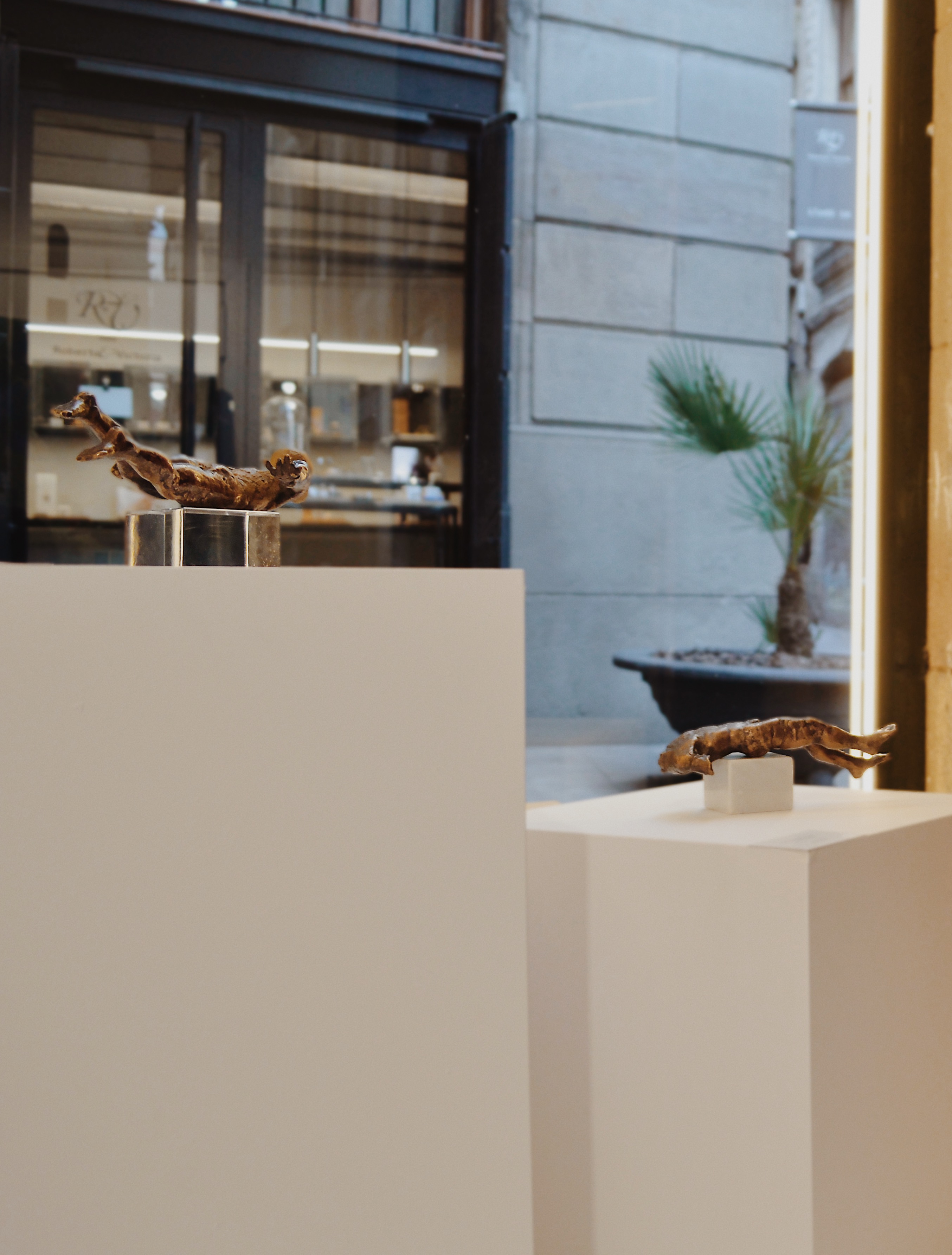 Icarus pieces
, 20 x 10 x 10 cm, bronce y mármol
Burning Icarus
, 25 x 15 x 10 cm, bronce y vidrio
Fine Arts graduate from the University of Barcelona, specializing in Sculpture, 1995. Simultaneously he studied at the Glass Center of Barcelona, and thanks to a scholarship, also at Sheridan College of Art and Design in Toronto, Canada.
After being professor at the Glass Center of Barcelona, he set up his own studio at the very center of Barcelona in 1999.
His work develops the idea of the present time by requiring the acción of the spectator or even his use, the artistic object is just a medium for the truly art, which occurs in between the object and the spectator.
"Artistic objects doesn't exist, but artistic experiences and appropriate objects to provoke them."
Javier Blanco, INTERPRETACCION, 1999.
EXHIBITIONS:
2016-2017/
"Dr Jekyll and Mrs Hyde" main exhibition of the EUROPEAN GLASS FESTIVAL in Poland. (Catalog)
Wrocław – 17.10.2016 – 10.11.2016 – Wrocław Central Train Station – Session Room
Łódź – 17.11.2016 – 10.12.2016 – City Art Gallery – Re:Medium Gallery
Legnica – 17.12.2016 – 29.01.2017 – Art Gallery in Legnica – RING Gallery
Jelenia Góra – 03.02.2017 – 02.04.2017 – the Karkonosze Museum
2015/
"18591 km. An exhibition about 18.591 Km of walls, physical and mental". Silent Green Kulturquartier. Berlin. Germany. (Catalog).
2012/
"(Re)modernismo: diseño y arte en la era digital". Castell de Cornellà. Cornellà de Llobregat. Barcelona. (individual. Catalog).
2005/
"Escultures en Vidre" Casa de Polo. Museu de la Ciutat. Vila-real. (Catalog)
2004/
"Cornellà Cruïlla" Sala municipal de exposiciones Castell de Cornellà. Cornellà de Llobregat. Barcelona. (Catalog)
2003/
"Observatori 2003" 4º Festival Internacional de Investigavión Artística de Valencia. Museum Príncipe Felipe. Ciudad de las Artes y las Ciencias. Valencia. (Catalog)
2002/
"Views of Glass from Barcelona" Galeria art-o-nivo. Brujas. Bélgica.
2001/
Fist Exhibition at Blanco Studio Taking part of the Design Spring Festival of Barcelona.
1999/
Creation of Blanco Studio, his own studio for the creation, production and sale of art, design and glass.
1999/
"INTERPRETACCION: La acción interpretactiva". M.A.V.A. Museo de arte en vidrio de Alcorcón. Madrid. (individual. Catalog)
1999/
"Prohibido el paso a personas ajenas a la obra" Galería Meet @rt. Barcelona.(individual)
1999/
"Esculturas de vidrio contemporáneo en España" Museo del Vidrio. La Granja de San Ildefonso. Segovia. (Catalog)
1998/
"Volumen y forma" 17 Escultores de vidrio contemporáneo. MAVA.
(Museo municipal de Arte en Vidrio de Alcorcón). Alcorcón, (Madrid).(Catalog)
1998/
"Fràgil". Sala d'exposicions Garcia Nieto. Cornellà de Llobregat. Barcelona. (Catalog)
1997/
"Set de vidre". Formando parte de la primavera del diseño. Pati Llimona, Barcelona.
1993/
"Festival de arte español" Galerie Douwes Dekker. Utrecht (Holand).
1992/
Victor Galery. Toronto (Canada).(Individual)
Shelley Tadman Gallery. Winnipeg, (Canada).
1991/
Elena Lee Verre D´Art Gallery. Montreal (Canada).
Bipedus IV
, 30 x 45 x 15 cm
resina policromada al óleo y mármol travertino
Flying Icarus II,
25 x 20 x 10 cm
resina policromada al óleo y mármol azul Macauba
Tyche V, goddess of fortune,
bronce y mármol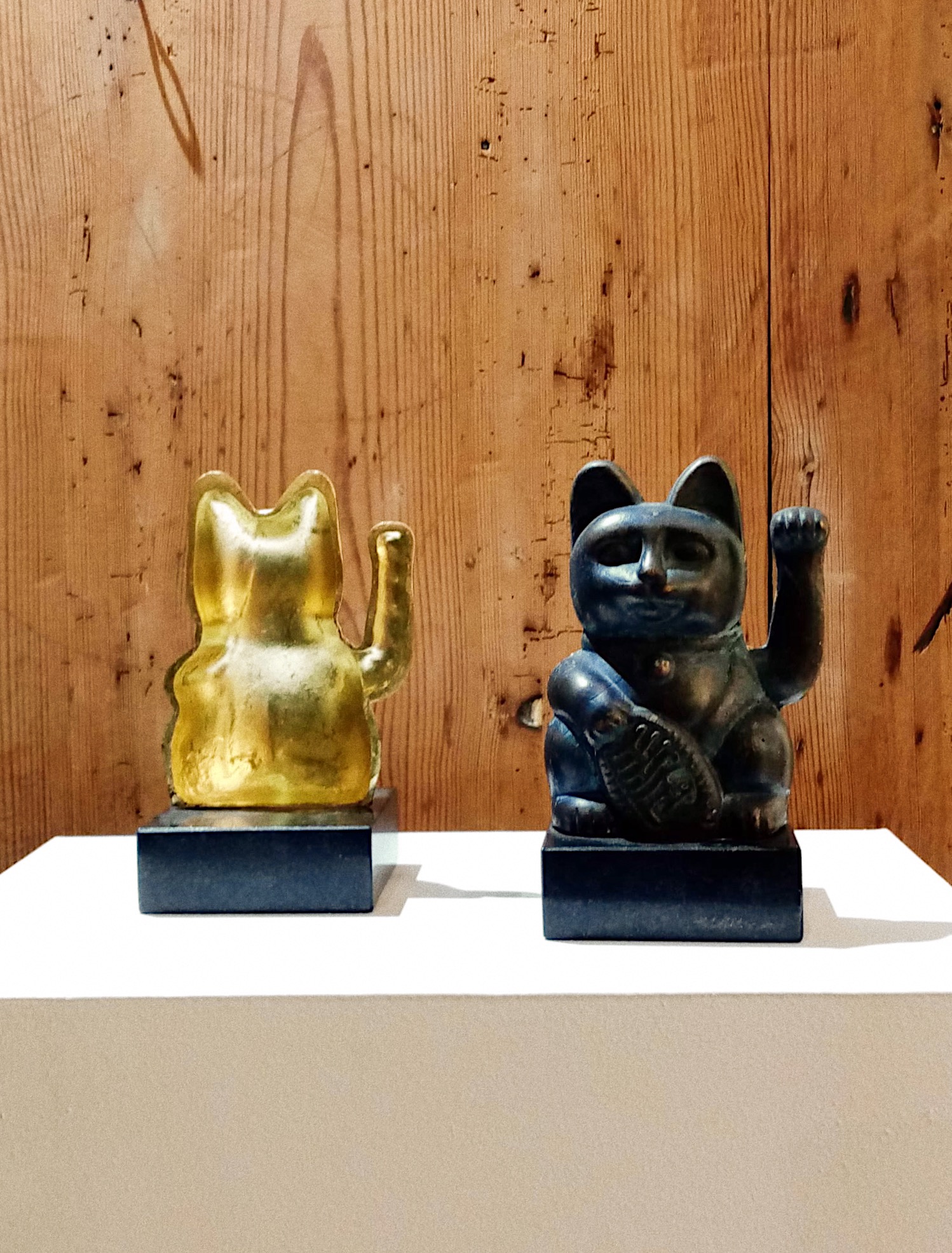 Tyche II, goddess of fortune, bronce, mármol y pan de oro (2 piezas)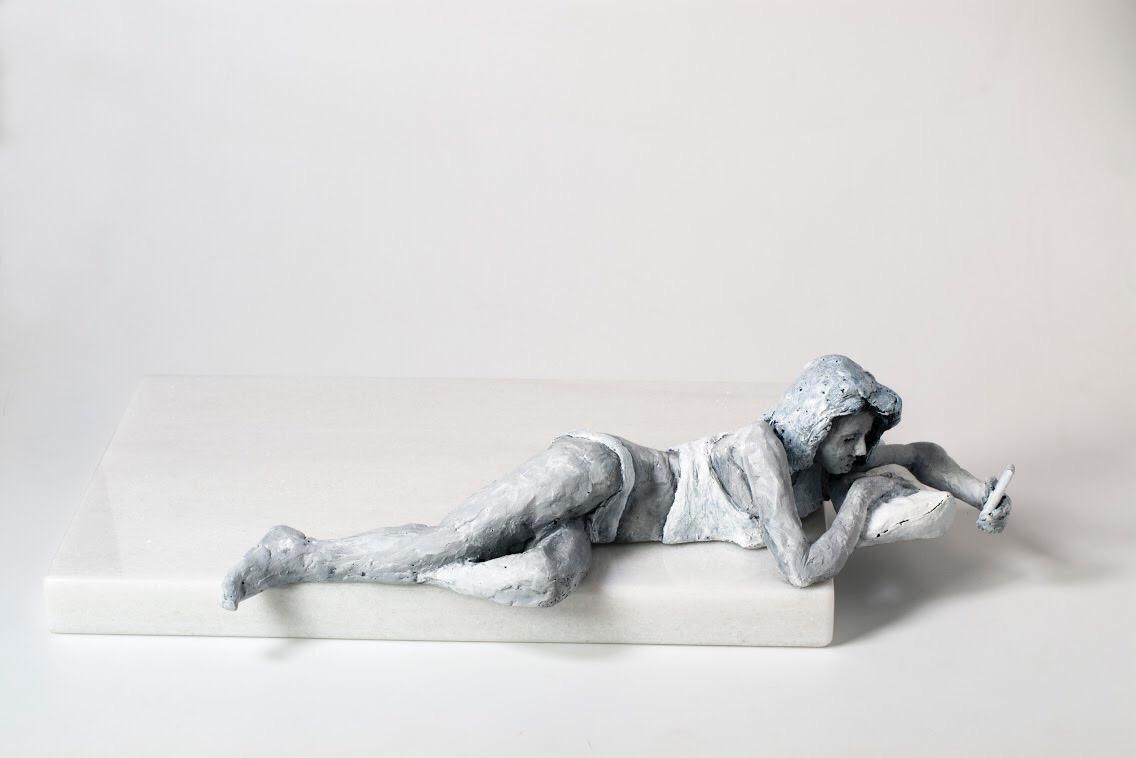 Cloud II
, 40 x 25 x 10 cm
resina policromada al óleo y mármol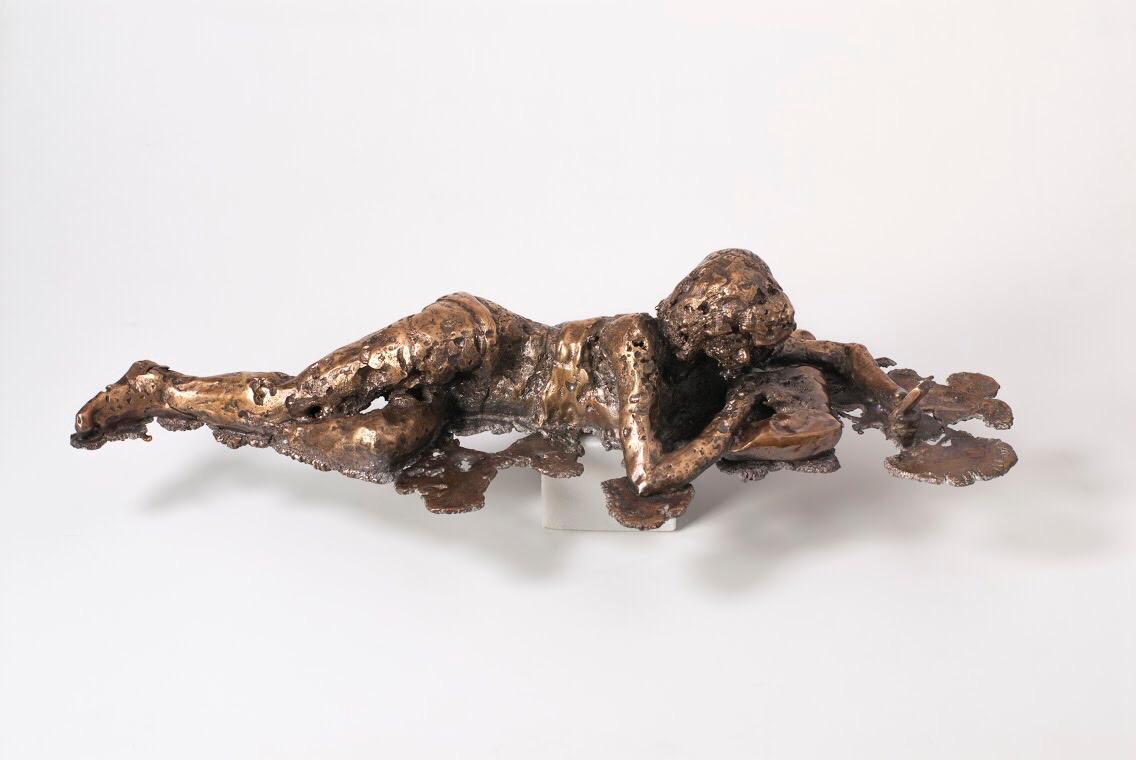 Cloud,
42 x 20 x 14 cm, bronce y mármol
Bipedus II
, 22 x 10 x 8 cm bronce y mármol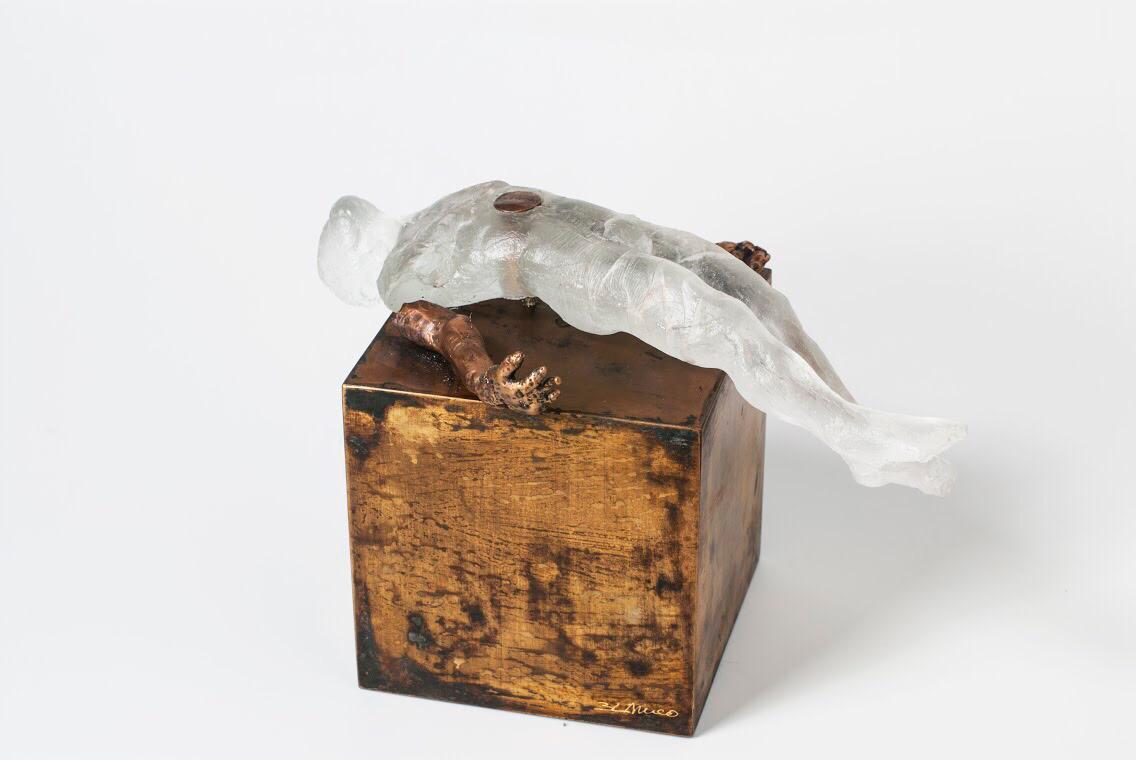 Fallen Icarus,
25 x 18 x 15 cm bronce y vidrio
Digital Angel II
, vidrio termoformado con impresión de imagen digital 3D
Bipedus III
, 40 x 10 x 8 cm
resina y mármol
Splash,
20 x 10 x 10 cm resina y mármol